Ladies neoprene pants BejkRoll BLUE STAR 2mm

- Size: L
Ladies neoprene pants BejkRoll BLUE STAR 2mm
- Size: L
-19%
---
Ladies neoprene pants BejkRoll Blue Star made from premium Japanese YAMAMOTO fabric, neoprene 2mm long legs, for water sports, very elastic and pleasant material. More
Product code: WS-08-L Shipping and Payment
Original price
76,60 €
.
Save
19%
(14,50 €)
62,10 €
Ladies neoprene pants BejkRoll Blue Star made from premium Japanese YAMAMOTO fabric, neoprene 2mm long legs, for water sports, very elastic and pleasant material. More
Product code: WS-08-L Shipping and Payment
Ladies neoprene pants BejkRoll BLUE STAR 2mm
Elastic women's neoprene pants of top quality, very comfortable and light, with a unique design. You can use these neoprene pants when it's colder at the beginning or end of the season and you don't want to buy a long wetsuit, at the same time they prevent you from scratching your board, fins or sharp objects while snorkeling or diving. High-waist cut leggings is made of Japanese super elastic 2mm neoprene YAMAMOTO, hold perfect on body and is very pleasant to the touch, the elastic material will fully adapt to your curves and will be easy to dress and undress. Flatlock sewing is a guarantee of the highest quality.
The pants can be combined with any short BejkRoll wetsuit and you get a full body neoprene suit and interesting color combinations.
WIDE USAGE
Women's neoprene pants in sizes XS, S, M, L, XL are suitable for a wide range of water sports - for surfing, kiteboarding, paddleboarding, windsurfing, wingsurfing, foil-surfing, wakeboarding or snorkeling, shallow diving or just going to the pool or water. They are especially suitable in situations where the air or water cools down quickly, especially at the beginning or in the middle of the season, but also in destinations where the weather changes quickly and is colder in the summer.
PROPERTIES:
Color:           Light blue and black ; Logo: Blue color
Thickness:    2 mm
Waist:           hign modern leginy waist which ensures good pants grip
Seams:         Flatlock sewing
Material:       YAMAMOTO Chloroprene Rubber (CR) – super stretch; 80 % neopren, 20 % nylon
Temperature:17°C – 25°C (water temperature)
Weight:         690g
SIZE GUIDE:
The neoprene should fit perfectly to you, it should be tighter. Accordingly, you choose your size, either at rest, the elastic material will fully adapt. Better to make the neoprene more tight than that your body was free and water was leaking into it.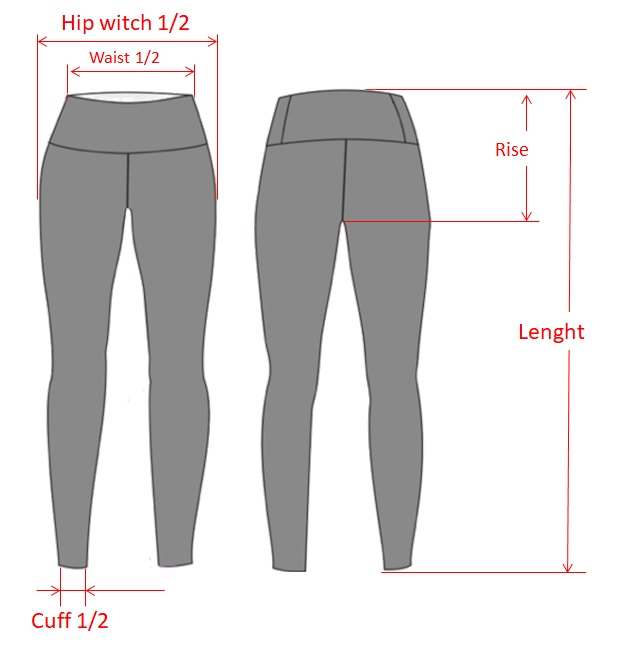 ---
Do I need a short or long wetsuit?
When it's colder weather and with it colder water and air, and I have a short wetsuit in which I am already getting cold. Or on vacation in the hot area, I can be surprised by a change in weather or cold water.
So is it time to get a wetsuit with long legs?
We got the solution for you. This can be easily solved with neoprene pants, which you wear over your short wetsuit and you will be warm again. Of course, since our wetsuits and pants are 2 mm thick, it is not suitable for winter riding, but you can handle it well up to a water temperature of about 15 °C, it is important to prevent the heat from escaping through your legs, and the neoprene pants will ensure this perfectly.
When you combine long neoprene pants and a long-sleeve wetsuit short (also called a neoprene short), you create a complete water activity outfit that provides you with optimal protection and comfort depending on the conditions and type of activity. Here's how these two pieces of wetsuit can work together:
Total body protection: The short long-sleeved wetsuit provides protection for the upper body, including the arms and torso, while the long wetsuit covers the lower body, including the thighs and calves. This ensures that your body is completely protected from cold water, sun and wind.
Variability in temperatures: By combining both pieces of neoprene clothing, you can more easily adapt your clothing layer to the current temperature conditions. If the water is colder, you can wear wetsuits. In warmer conditions, just take a short wetsuit. Thanks to the use of premium Japanese YAMAMOTO material, which has up to 30% higher thermal insulation than standard wetsuits, so it offers a greater thermal range.
Freedom of movement: The short wetsuit allows more freedom of movement of the legs, which is useful for swimming or other water activities. At the same time, the long sleeve protects the shoulders and arms from irritation and sunlight. At the same time, two pieces of clothing are better dressed than one long wetsuit.
Flexibility and comfort: Our wetsuits and pants are made from premium Japanese YAMAMOTO material, very elastic, soft and pleasant to the touch, which means it allows you to move without restriction. This is important for many water sports.
Protection against UV radiation: So you can combine clothes according to the current sun conditions, which protects your skin from the harmful rays of the sun.
Protection against injury: depending on the type of sport, it is advisable to consider the use of trousers, for example in surfing, where you are on the board and your legs and knees suffer, or in sports such as foiling where you can injure your shins or where there are anemones and your legs would be bitten from otherwise innocent sea creatures.
All in all, the combination of a long wetsuit with a short wetsuit allows for more flexibility and adaptability to different conditions while maintaining protection and comfort for water activities. You don't have to carry several wetsuits with you when traveling, but only one short wetsuit and pants.
---
We make wetsuits from premium Japanese material YAMAMOTO Chloroprene Rubber (CR), very soft, elastic and durable. Neoprene fits perfectly and will be your favorite accessory.

The difference between YAMAMOTO wetsuit and "normal wetsuit" Not CR like CR!
Did you know that Yamamoto's neoprene material is made from limestone? Yes, it's true. Unlike other types of neoprene that are derived from petroleum, Yamamoto neoprene is created from environmentally friendly limestone. Why is this important?
Ensures better skin comfort.
Provides excellent thermal insulation.
It offers more flexibility.
It is more resistant to wear.
It has significantly better impermeability.
It is Eco-Friendly.

How is this possible? The principle is relatively simple. Both types of neoprene - both Yamamoto's limestone-based and petroleum-based neoprene - are composed of independent bubble-like structures that serve as insulation. But the difference lies in the base material: Yamamoto uses limestone instead of oil. As a result, limestone neoprene has over 30% more air bubbles than its petroleum counterpart. As a result, clothes made of Yamamoto neoprene are 30% more effective at keeping warm. This increase in insulation means you can wear thinner wetsuits and still stay warm and comfortable for extended periods of time in the water.
In addition to providing 30% more thermal insulation, Yamamoto neoprene also has 30% more flexibility compared to petroleum-based neoprene. How is it possible? Again, this improvement is due to the increased amount of air bubbles in the Yamamoto neoprene, which cause a reduced density of the material. As a result, limestone-based neoprene offers more flexibility than its petroleum counterpart, which has a higher density due to fewer air bubbles.
This increased flexibility means that Yamamoto's wetsuits fit the body better. Their more ergonomic shape and lower volume ensure greater comfort, which brings more joy and satisfaction from being on or in the water.
See how YAMAMOTO material is made