Ladies wetsuit BejkRoll SUNSET 2mm

- Size: L
Ladies wetsuit BejkRoll SUNSET 2mm
- Size: L
-16%
---
Ladies's design wetsuit BejkRoll Sunset made from premium Japanese YAMAMOTO fabric, short neoprene with long sleeves and leg, 2mm, wetsuit for water sports, very elastic and pleasant material. More
Product code: WS-06-L Shipping and Payment
Original price
138,80 €
.
Save
16%
(22,20 €)
116,60 €
Ladies's design wetsuit BejkRoll Sunset made from premium Japanese YAMAMOTO fabric, short neoprene with long sleeves and leg, 2mm, wetsuit for water sports, very elastic and pleasant material. More
Product code: WS-06-L Shipping and Payment
Ladies Wetsuit Bejkroll SUNSET 2mm
Elastic women's neoprene of top quality, very light, short with long sleeves and pants under the buttocks (apx 15cm under bottom), for those who want to shine both in beach and water with a completely unique design. You can use this neoprene if it is colder or sharp sun as protection against burning, and at the same time prevents scratches of board, fins or sharp objects during riding, snorkeling or diving. The cut of this great women's surf neoprene, flatter your figure, your pants will not cut into your thighs and have an opening on your back. It is made of Japanese super elastic 2mm neoprene YAMAMOTO, it is very pleasant to the touch and especially on the body, the elastic material fully adapts to your curves and will dress and undress well. Flatlock sewing and YKK ZIP guarantee the highest quality.
WIDE USE
Women's short girl Wetsuit in the sizes of XS, S, M, L, XL can be used as neoprene swimwear in water and is suitable for a wide range of water sports-for surfing, kiteboarding, paddleboarding, windsurfing, wingsurfing, foil-surfing, wakeboarding or snorkeling, shallow diving or just in a pool or water. Thanks to long sleeves and short legs, it is especially suitable for summer days and destinations, where there is warmer water with occasional wind. Through neoprene, any shorts or neoprene pants for even higher protection can be taken, or we recommend to dress stretch leggings under the neoprene.
PROPERTIES:
Color:            Pink green color gradient (neon colors), left sleeve with wool motif, wool color pink-green; ZIP: black; LOGO: Light blue color
Thickness:    2 mm
Fastening:     Zipper on back with 40cm cord for light grip, rear velcro for tightening collar around the neck
Cut:               Long sleeves and panty cut of the bottom, collar with tightening for neck protection
ZIP:               YKK
Seams:          Flatlock outer flat seams
Material:       YAMAMOTO Chloroprene Rubber (CR) – super stretch; 80 % neopren, 20 % nylon
Temperature:17°C – 25°C (water temperature)
Weight:         690g
SIZE GUIDE:
The neoprene should fit perfectly to you, it should be tighter. Accordingly, you choose your size, either at rest, the elastic material will fully adapt. Better to make the neoprene more tight than that your body was free and water was leaking into it.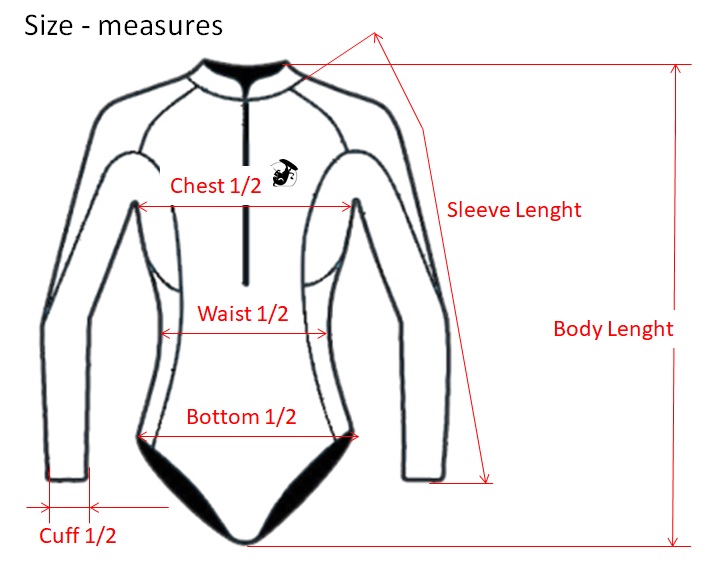 We make wetsuits from premium Japanese material YAMAMOTO Chloroprene Rubber (CR), very soft, elastic and durable. Neoprene fits perfectly and will be your favorite accessory.

The difference between YAMAMOTO wetsuit and "normal wetsuit" Not CR like CR!
Did you know that Yamamoto's neoprene material is made from limestone? Yes, it's true. Unlike other types of neoprene that are derived from petroleum, Yamamoto neoprene is created from environmentally friendly limestone. Why is this important?
Ensures better skin comfort.
Provides excellent thermal insulation.
It offers more flexibility.
It is more resistant to wear.
It has significantly better impermeability.
It is Eco-Friendly.

How is this possible? The principle is relatively simple. Both types of neoprene - both Yamamoto's limestone-based and petroleum-based neoprene - are composed of independent bubble-like structures that serve as insulation. But the difference lies in the base material: Yamamoto uses limestone instead of oil. As a result, limestone neoprene has over 30% more air bubbles than its petroleum counterpart. As a result, clothes made of Yamamoto neoprene are 30% more effective at keeping warm. This increase in insulation means you can wear thinner wetsuits and still stay warm and comfortable for extended periods of time in the water.
In addition to providing 30% more thermal insulation, Yamamoto neoprene also has 30% more flexibility compared to petroleum-based neoprene. How is it possible? Again, this improvement is due to the increased amount of air bubbles in the Yamamoto neoprene, which cause a reduced density of the material. As a result, limestone-based neoprene offers more flexibility than its petroleum counterpart, which has a higher density due to fewer air bubbles.
This increased flexibility means that Yamamoto's wetsuits fit the body better. Their more ergonomic shape and lower volume ensure greater comfort, which brings more joy and satisfaction from being on or in the water.
See how YAMAMOTO material is made